Hey there, foodies! If you're like me, you're always on the hunt for something that's not just tasty but also a feast for the eyes. Let me tell you, Caprese Chicken Saltimbocca is that dish. Imagine the juiciness of chicken cutlets, the saltiness of prosciutto, and the freshness of tomatoes and basil, all wrapped up in one mouth-watering package. It's Delish with a capital D!
This dish is perfect for those special dinner parties or even a romantic dinner for two. The flavors are so well-balanced that it's like a symphony in your mouth. So, let's dive in and explore how to make this culinary masterpiece.
Choosing the Right Chicken: Quality Over Quantity
First things first, the chicken. You can't make a great Caprese Chicken Saltimbocca without quality chicken. So, what should you look for? Go for organic, free-range chicken cutlets if you can. Trust me, it makes a difference in the taste and texture.
What About Seasoning?
Seasoning is key to elevating this dish. You'll need kosher salt, pepper, and of course, fresh basil. Don't skimp on the basil; it's what gives the dish its unique Caprese flair. And for the love of food, please use fresh basil, not the dried stuff.
Recommended Cooking Equipment and How to Use It Effectively
Alright, let's talk gear. You'll need a good skillet and a gas grill. I swear by my Pampered Chef Signature Nonstick Skillet for this recipe. It distributes heat evenly, ensuring that your chicken is cooked to perfection. If you're using a gas grill, make sure it's preheated to medium-high heat before you start.
Skillet: Use it for searing your chicken cutlets. Make sure it's nonstick, or you'll have a hard time flipping those bad boys.
Gas Grill: Ideal for getting that smoky flavor into your prosciutto and tomatoes. Just a few minutes on each side and you're golden.
Close & Cut: This handy tool from Pampered Chef is perfect for slicing your tomatoes and mozzarella with ease.
Platter: You'll need a large one to serve. Presentation is key, people!
Heat Control: Whether you're using a skillet or a gas grill, maintaining the right heat level is crucial. You don't want to burn your precious ingredients.
Now that we've got our equipment sorted, let's move on to the recipe, shall we?
The Ultimate Caprese Chicken Saltimbocca Recipe
Alright, let's get cooking! This recipe is going to be the star of your next dinner party, I promise.
Yield: 4
Caprese Chicken Saltimbocca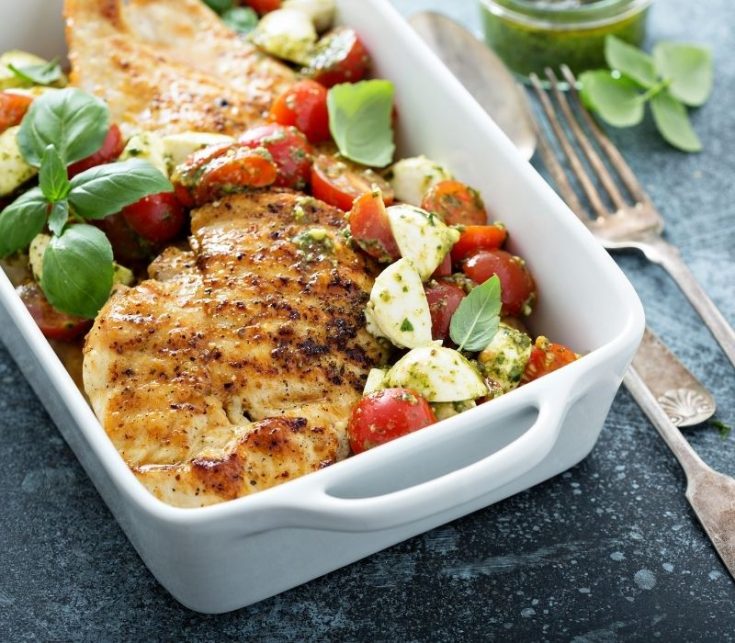 Caprese Chicken Saltimbocca is the epitome of culinary bliss for me. It's like a love letter to Italian cuisine, blending the classic elements of a Caprese salad with the savory richness of saltimbocca. Every bite is a harmonious medley of flavors—juicy chicken, salty prosciutto, creamy mozzarella, and fresh basil, all tied together with a tangy balsamic glaze. It's a dish that never fails to impress, both in presentation and taste.
Ingredients
4 chicken cutlets
4 slices of prosciutto
4 slices of mozzarella (ciliegine size)
2 large tomatoes, sliced
Fresh basil leaves
1 cup chicken stock
1/2 cup balsamic vinegar
2 tablespoons olive oil
1 tablespoon flour
Kosher salt and pepper to taste
Instructions
Preparation: Season the chicken cutlets with kosher salt and pepper. Dredge them lightly in flour.
Searing: Heat olive oil in your Signature Nonstick Skillet over medium-high heat. Add the chicken and cook until golden on both sides. Remove and set aside.
Grilling: Preheat your gas grill to medium-high heat. Grill the prosciutto and tomato slices for about 2 minutes on each side.
Assembly: Place a slice of grilled prosciutto, a slice of tomato, and a slice of mozzarella on each chicken cutlet. Secure with a toothpick if needed.
Cooking: In the same skillet, add chicken stock and bring to a simmer. Place the assembled chicken cutlets back into the skillet. Cover and cook for about 10 minutes.
Sauce: In a separate pan, reduce the balsamic vinegar over low heat until it thickens into a sauce.
Plating: Place the cooked chicken saltimbocca on a platter, drizzle with the reduced balsamic sauce, and garnish with fresh basil leaves.
Nutrition Information:
Yield:
4
Serving Size:
1
Amount Per Serving:
Calories:

450
Total Fat:

30g
Net Carbohydrates:

12g
Protein:

35g
Serving Suggestions and Suitable Side Dishes
This dish pairs wonderfully with a simple arugula salad or some roasted veggies. If you're feeling fancy, a glass of white wine wouldn't hurt either.
Pro Tips and Common Mistakes to Avoid
Don't Overcook: Chicken cutlets are thin and cook quickly. Keep an eye on them.
Quality Ingredients: Always opt for fresh basil and quality mozzarella.
Heat Management: Whether it's your skillet or gas grill, maintaining the right heat is crucial.
Conclusion: Why You Need to Try Caprese Chicken Saltimbocca
So there you have it, folks! Caprese Chicken Saltimbocca is not just a dish; it's an experience. It's the perfect blend of Italian classics, making it a main course that's sure to impress. With the right ingredients, equipment, and a little bit of love, you can bring a piece of Italy right into your kitchen.
Don't forget, if you're looking for more amazing recipes like this, consider a TasteBuds subscription. You'll get a discount on your first purchase in September. Happy cooking!
Frequently Asked Questions (FAQs)
What is chicken saltimbocca made of?
Chicken saltimbocca is a classic Italian dish made of chicken cutlets, prosciutto, and sage, usually cooked in a white wine and butter sauce. It's a simple yet flavorful dish that's perfect for any occasion.
Did Starbucks get rid of the chicken caprese?
As of my last update in September 2021, Starbucks did occasionally rotate their menu, and the chicken caprese sandwich has been on and off the menu. It's best to check your local Starbucks for the most current offerings.
What is caprese chicken made of?
Caprese chicken is a delightful dish that combines grilled or baked chicken breasts with the classic Italian Caprese elements: fresh tomatoes, mozzarella cheese, and basil leaves. It's often drizzled with a balsamic glaze for added flavor.
How many calories in a chicken caprese sandwich?
The calorie count for a chicken caprese sandwich can vary depending on the ingredients and portion sizes, but it generally ranges from 400 to 600 calories. Always check nutritional information if you're counting calories.
Can I use a different type of cheese?
Absolutely! While mozzarella is traditional for the Caprese element, you can experiment with other soft cheeses like burrata or even a sharp Parmesan to give the dish a different twist.
What can I use instead of a gas grill?
If you don't have a gas grill, you can use a grill pan on your stovetop or even broil the ingredients in your oven. The key is to get that nice charred flavor into the prosciutto and tomatoes.
Is this dish gluten-free?
The dish can be made gluten-free by skipping the flour used for dredging or by using a gluten-free alternative. Always check the labels on your chicken stock and balsamic vinegar to ensure they're gluten-free as well.
Can I make this dish ahead of time?
Yes, you can prepare the chicken and other elements ahead of time. However, I'd recommend cooking it fresh for the best flavors. You can store the prepped ingredients separately in the fridge until you're ready to cook.
What wine pairs well with Caprese Chicken Saltimbocca?
A light Italian white wine like Pinot Grigio or even a Chardonnay pairs beautifully with this dish. The wine complements the flavors without overpowering them.
Related Article:
I'm Calvin Lamb, an LA-based culinary enthusiast with a decade's experience in five-star kitchens. My innovative dishes, inspired by seasonal flavors and sustainable practices, blend classic and modern cuisine. Besides crafting unique culinary experiences, I relish exploring new eateries and devising fresh recipes.