When I first stumbled upon the Neiman Marcus gourmet chicken recipe, I was intrigued. Neiman Marcus, a name synonymous with luxury and elegance, and here it was, associated with a chicken recipe. It piqued my interest, and I had to try it. And let me tell you, it didn't disappoint. This dish is a culinary masterpiece that every food enthusiast should try at least once.
The Occasion
The Neiman Marcus gourmet chicken breast recipe is perfect for a dinner party. Its rich flavors and elegant presentation make it a showstopper. Whether you're hosting a formal gathering or a casual dinner with close friends, this dish will leave an impression. It's not just a meal; it's an experience.
Recommended Cooking Equipment
To make this Neiman Marcus chicken recipe, you'll need a few essential kitchen tools:
Oven: A good-quality oven ensures even cooking, which is crucial for this dish.
Mixing Bowls: For preparing the breadcrumbs, buttermilk, and flour mixture.
Baking Dish: Preferably ceramic or glass, to bake the chicken to perfection.
Using the right equipment effectively can make a huge difference. Ensure your oven is preheated to the right temperature, and always use oven mitts to handle hot dishes.
Neiman Marcus Gourmet Chicken Recipe
Yield: 4
Neiman Marcus Gourmet Chicken Breast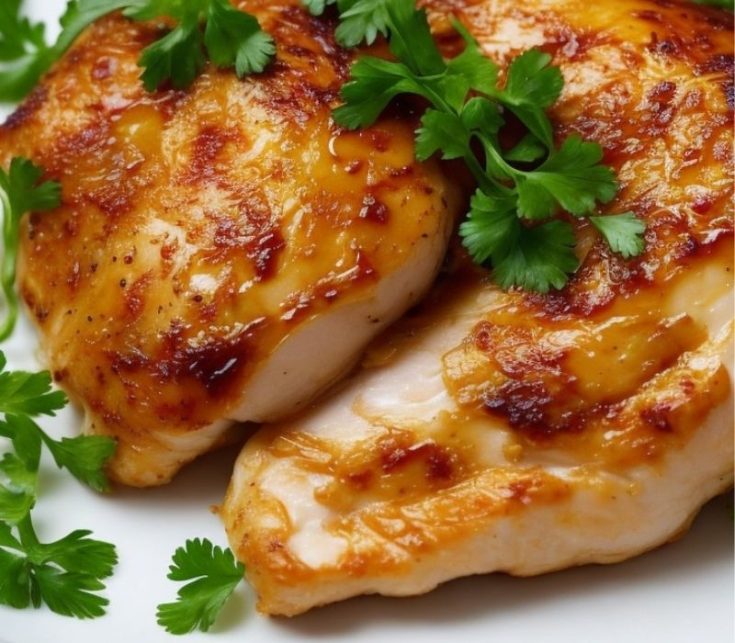 The Neiman Marcus gourmet chicken recipe is a delightful blend of boneless, skinless chicken breasts marinated in buttermilk, coated with a mixture of breadcrumbs, grated Parmesan cheese, and herbs and seasonings. It's then baked to perfection, resulting in a magically moist chicken with a crispy exterior.
Total Time
2 hours
50 minutes
Ingredients
4 boneless, skinless chicken breasts
2 cups buttermilk
1 cup breadcrumbs
1/2 cup grated Parmesan cheese
2 tablespoons chopped parsley
1 teaspoon mixed herbs and seasonings (thyme, rosemary, and oregano)
1/2 cup flour
2 tablespoons olive oil
Salt and pepper to taste
1 tablespoon butter (for greasing)
Instructions
Marination: Place the chicken breasts in a large bowl. Pour the buttermilk over them, ensuring they're fully submerged. Cover and refrigerate for at least 2 hours.
Breadcrumb Mixture: In a separate bowl, combine breadcrumbs, grated Parmesan cheese, parsley, and herbs and seasonings. Mix well.
Preheat the Oven: Preheat your oven to 375°F (190°C). Grease a baking dish with butter.
Coating the Chicken: Remove the chicken from the buttermilk and let the excess drip off. Dredge each piece in flour, shaking off the excess. Then, press each chicken breast into the breadcrumb mixture, ensuring it's well-coated on both sides.
Baking: Place the coated chicken breasts in the greased baking dish. Drizzle with olive oil. Bake in the preheated oven for about 25-30 minutes, or until the chicken is golden brown and the juices run clear when pierced.
Serving: Once cooked, let the chicken rest for a few minutes before serving. This ensures the juices redistribute, keeping the chicken moist.
Nutrition Information:
Yield:
4
Serving Size:
1
Amount Per Serving:
Calories:

410
Total Fat:

20g
Saturated Fat:

6g
Cholesterol:

100mg
Sodium:

450mg
Carbohydrates:

20g
Fiber:

1g
Sugar:

3g
Protein:

35g
Serving Suggestions
Serve the Neiman Marcus Gourmet Chicken Breast with a side of Neiman Marcus chicken salad for a refreshing touch. If you're looking for a heartier option, pair it with the Neiman Marcus chicken casserole. For a gourmet touch, consider a glass of white wine or sparkling water with a lemon wedge.
Tips:
Always use fresh chicken. It makes a significant difference in taste and texture.
For an added crunch, you can mix in some crushed cornflakes with the breadcrumb mixture.
If you don't have buttermilk, you can make your own by adding a tablespoon of lemon juice or white vinegar to a cup of milk. Let it sit for 10 minutes before using.
Common Mistakes to Avoid
Rushing the Marination: The buttermilk not only flavors the chicken but also tenderizes it. Don't cut this process short.
Overcrowding the Baking Dish: Ensure there's space between each chicken breast in the baking dish. This ensures even cooking and a crispy crust.
Using Old Breadcrumbs: Fresh breadcrumbs adhere better and provide a better texture.
Conclusion
The Neiman Marcus Gourmet Chicken recipe is a testament to the beauty of simple ingredients coming together to create a gourmet experience. Whether you're serving it at a dinner party or enjoying it on a quiet evening, it promises a culinary journey that's both delightful and memorable. So, put on your chef's hat and get cooking!
Frequently Asked Questions (FAQs)
How do you make chicken like Gordon Ramsay?
Gordon Ramsay often emphasizes the importance of seasoning and using fresh ingredients. He typically pan-sears chicken for a crispy skin, then finishes it in the oven for even cooking. Always let it rest before serving.
What does Gordon Ramsay season chicken with?
Ramsay frequently uses a combination of salt, freshly ground black pepper, olive oil, and fresh herbs like rosemary and thyme. He believes in the power of simple seasonings to enhance the natural flavors.
How to season premade chicken?
For premade chicken, it's best to use light seasonings to avoid overpowering the original flavors. A sprinkle of salt, pepper, and a drizzle of lemon juice or a light herb-infused oil can elevate its taste.
How to cook chicken breasts?
Chicken breasts can be pan-seared, grilled, baked, or poached. The key is to cook them on medium heat to retain moisture. Always ensure the internal temperature reaches 165°F (74°C) for safety.
Can I substitute buttermilk in the Neiman Marcus chicken recipe?
Yes, if you don't have buttermilk, mix a cup of milk with a tablespoon of lemon juice or white vinegar. Let it sit for 10 minutes before using.
How long can I marinate the chicken in buttermilk?
Ideally, marinate the chicken for at least 2 hours. However, you can leave it in the buttermilk for up to 24 hours in the refrigerator.
What side dishes go well with the Neiman Marcus chicken?
Classic choices include mashed potatoes, steamed vegetables, or a light salad. For a gourmet touch, consider risotto or roasted root vegetables.
Can I use chicken thighs instead of breasts for the Neiman Marcus recipe?
Absolutely! Chicken thighs can be juicier and more flavorful. Adjust the cooking time as thighs may take a bit longer to cook through.
How do I store leftover Neiman Marcus chicken?
Store any leftovers in an airtight container in the refrigerator. They should be consumed within 3-4 days for the best quality.
Is it essential to use Parmesan in the breadcrumb mixture?
Parmesan adds a rich, savory flavor to the crust. However, if you're not a fan or have dietary restrictions, you can omit it or substitute with another hard cheese.
Related Article:
I'm Calvin Lamb, an LA-based culinary enthusiast with a decade's experience in five-star kitchens. My innovative dishes, inspired by seasonal flavors and sustainable practices, blend classic and modern cuisine. Besides crafting unique culinary experiences, I relish exploring new eateries and devising fresh recipes.