Have you ever dined at Texas Roadhouse and tasted their impeccable herb crusted chicken? If you haven't, you're in for a flavorful revelation. If you have, then you know the savory heaven that awaits you. As a food blogger, I must say, it's one of my most treasured chicken recipes that's both wholesome and delightfully easy to prepare.
The Texas Roadhouse herb crusted chicken is a symphony of flavors, a melody of herbs coating a succulent chicken breast, pan-seared to perfection. The blend of dried dill, basil, oregano, garlic powder, and paprika creates an inviting aroma that stimulates the senses. This coupled with the juicy, tender texture of the perfectly cooked chicken breast offers an unforgettable dining experience.
Recommended Cooking Equipment and Effective Usage
When making this recipe, a good-quality skillet and an instant-read meat thermometer are indispensable. A skillet is great for cooking chicken breast, ensuring an even, golden crust and maintaining a consistent medium-high heat. An instant-read meat thermometer, on the other hand, guarantees that your chicken is cooked through to a safe internal temperature without being overdone.
Recreating the Classic: Texas Roadhouse Herb Crusted Chicken Recipe
Yield: 4
Texas Roadhouse herb crusted chicken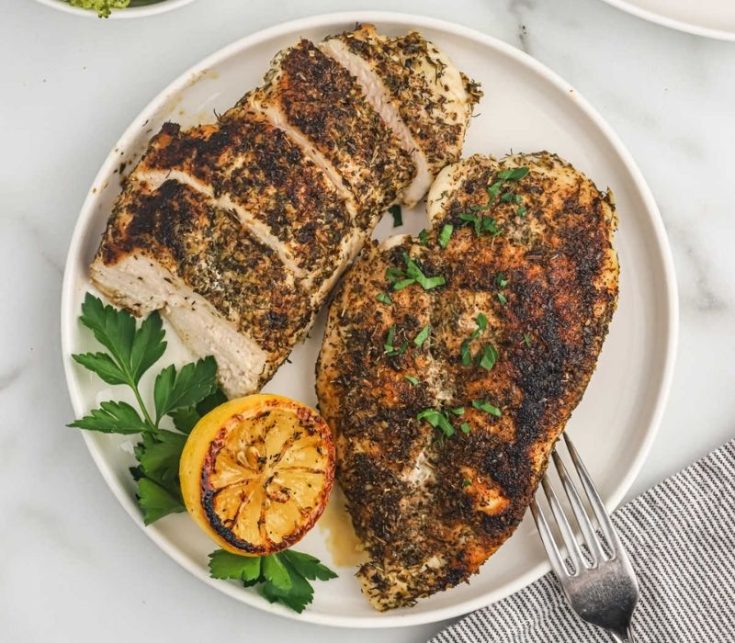 Texas Roadhouse Herb Crusted Chicken is a delightful dance of flavors and textures that transports my taste buds straight to the heart of American culinary traditions. The aromatic herbs blend seamlessly with the succulence of the chicken, creating a dish that's both comforting and tantalizing. It's a reminder of why classics are cherished and revisited.
Ingredients
4 chicken breasts
1/4 cup olive oil
1 tablespoon lemon juice
1 tablespoon dried dill
1 tablespoon dried basil
1 tablespoon dried oregano
1 teaspoon garlic powder
1 teaspoon paprika
Salt and pepper to taste
Instructions
Begin by preparing your chicken breasts. Flatten each piece to an even thickness using a meat mallet. This ensures even cooking.
In a bowl, prepare the seasoning mixture. Combine the dried dill, basil, oregano, garlic powder, paprika, salt, and pepper.
Brush each chicken breast with olive oil and lemon juice, then coat with the seasoning mixture.
Heat oil in a skillet over medium-high heat. Add the chicken breasts and cook for 7 minutes on each side, or until the internal temperature reaches 165°F (74°C) on your meat thermometer.
Once cooked through, remove from heat, and let it rest for a few minutes. Then, serve and enjoy your Texas Roadhouse herb crusted chicken!
Nutrition Information:
Amount Per Serving:
Calories:

385
Total Fat:

19g
Sodium:

330mg
Carbohydrates:

1g
Fiber:

0g
Sugar:

0g
Protein:

48g
Pair Your Chicken With the Perfect Sides
Complement your herb crusted chicken with hearty sides like homemade cornbread, loaded mashed potatoes, and seasoned green beans. If you're aiming for a lighter meal, a mix of roasted vegetables or a simple side salad will do the trick.
Tips and Common Mistakes to Avoid
Flatten Your Chicken: Ensuring an even thickness of chicken is essential to avoid overcooked or undercooked parts.
Avoid Overheating Oil: Keep an eye on your skillet. If the oil smokes, it's too hot and may cause your chicken to burn.
Don't Rush Cooking: Patience is key. Turning the chicken too soon can cause it to stick to the skillet, and overcooking it can make it dry.
Conclusion: Bring the Texas Roadhouse Experience Home
There's nothing like enjoying a restaurant-quality meal from the comfort of your home. This Texas Roadhouse herb crusted chicken copycat recipe is the perfect way to do just that. It's a simple yet delicious weeknight meal that uses pantry staples to deliver a delectable dining experience. Enjoy the process, and remember, the joy of cooking is all about experimentation and personalization. Happy cooking!
Frequently Asked Questions
Can I store the leftovers?
Yes, store any leftovers in an air-tight container in the refrigerator for up to three days.
What's the best way to reheat my Texas Roadhouse herb crusted chicken?
Reheat gently in a skillet over medium heat, or in the oven at 300°F (150°C) until warmed through.
Can I use chicken thighs instead of chicken breasts for this recipe?
Absolutely! Just adjust the cook time accordingly, as thighs may take a bit longer to cook through
Can I prepare the seasoning mixture in advance?
Yes, you can make a larger batch of the seasoning mixture and store it in an airtight container for future use.
Can I use fresh herbs instead of dried?
Yes, though keep in mind that fresh herbs are less potent, so you may need to use more to achieve the same flavor.
What can I serve with this for a healthy meal?
Pair this chicken with a salad or roasted vegetables for a healthy, balanced meal.
How many calories are in a Texas Roadhouse herb crusted chicken?
The homemade version of this dish, as described in our recipe, contains approximately 385 calories per serving. The calorie count can vary if you order at Texas Roadhouse, depending on the size of the chicken breast and other factors.
How does Texas Roadhouse get their chicken so tender?
The secret to tender chicken lies in the preparation and cooking process. The Texas Roadhouse likely uses a method similar to ours, where chicken breasts are flattened to an even thickness before cooking. This ensures even heat distribution, resulting in a juicy and tender piece of chicken. Moreover, marinating chicken in a mixture of oil and acidic elements like lemon juice or vinegar can help to tenderize it.
How many carbs are in herb crusted chicken?
The herb crusted chicken recipe provided here is quite low in carbs, with only 1 gram of carbohydrates per serving. However, the carb count can vary if you're dining at Texas Roadhouse or using different recipes, so it's best to check specific nutritional information when available.
Related Article:
I'm Calvin Lamb, an LA-based culinary enthusiast with a decade's experience in five-star kitchens. My innovative dishes, inspired by seasonal flavors and sustainable practices, blend classic and modern cuisine. Besides crafting unique culinary experiences, I relish exploring new eateries and devising fresh recipes.