From the first bite, the Chicken Salad Chick Cranberry Kelli chicken salad had me hooked. Its harmonious blend of tender chicken, tangy cranberries, and crunchy almonds is simply irresistible. In my opinion, this dish is the epitome of a perfect chicken salad. Its taste? A symphony of flavors that dances on the palate. Whether you're hosting a lunch party or looking for a light dinner, this dish fits the bill.
Choosing the Right Chicken: The Heart of the Recipe
How do you ensure your chicken salad stands out? It starts with selecting the right chicken. Do you opt for chicken tenderloins, chicken breast, or the ever-popular rotisserie chicken? My advice: go for chicken tenderloins. They're tender, flavorful, and cook evenly. But if you're in a pinch, a rotisserie chicken from your local store can be a lifesaver.
Seasoning Matters: How Do You Get It Right?
What's the secret to that restaurant-favorite taste in the Chicken Salad Chick Cranberry Kelli chicken salad? It's all in the seasoning. Wondering about the perfect balance? Think garlic powder, onion powder, salt, and pepper. These simple seasonings elevate the chicken's natural flavors, making your salad a hit.
Recommended Cooking Equipment and How to Use Them Effectively
The Power of Mixers: Whether it's a food processor, hand mixer, or stand mixer, these tools ensure your chicken is shredded to perfection. For the Chicken Salad Chick Cranberry Kelli chicken salad, I recommend using a food processor. It gives the chicken a fine, even texture, ideal for this salad.
The Essential Large Pot: Boiling chicken might seem straightforward, but using a large pot ensures even cooking. Plus, it's perfect for making a big batch of this delightful salad.
Meat Thermometer: Don't leave the doneness of your chicken to guesswork. A meat thermometer ensures your chicken is cooked safely and remains juicy.
The Ultimate Guide to Making Chicken Salad Chick Cranberry Kelli
Yield: 4
Chicken Salad Chick Cranberry Kelli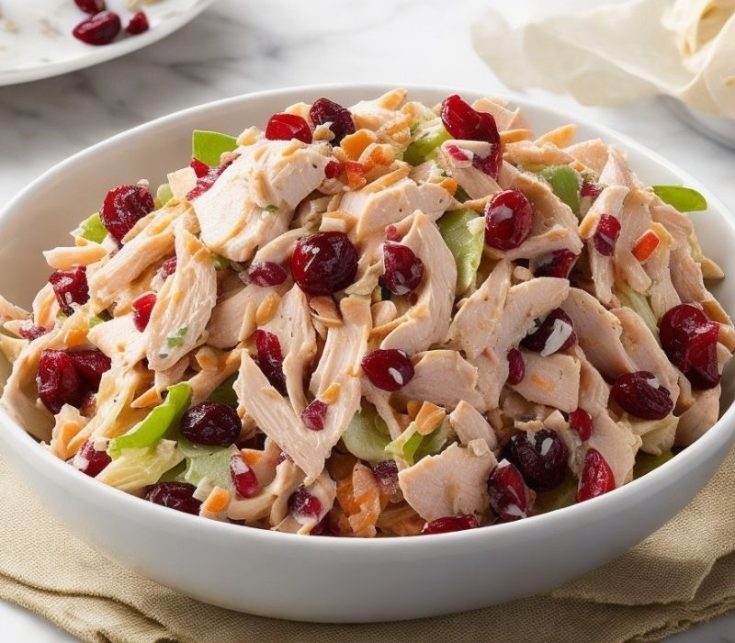 The Chicken Salad Chick Cranberry Kelli chicken salad is more than just a dish; it's a culinary experience. This delightful blend of succulent chicken, zesty cranberries, and crunchy almonds creates a rich tapestry of flavors that dance on the palate. Every morsel is a celebration of the meticulous balance of ingredients, making it a dish that holds a special place in my heart.
Total Time
1 hour
35 minutes
Ingredients
500g chicken tenderloins (this will yield approximately 2 cups of shredded chicken)
1 celery rib, finely diced
1 cup of dried cranberries
1/2 cup of slivered almonds
3/4 cup of Duke's mayonnaise
1/2 teaspoon of garlic powder
1/2 teaspoon of onion powder
Salt and pepper, adjusted to your preference
Sufficient water for boiling the chicken
Instructions
Boil the Chicken: In a spacious pot, submerge the chicken tenderloins in water and bring to a boil. Continue boiling until the chicken is thoroughly cooked. To ensure safety, use a meat thermometer and make sure the internal temperature of the chicken reaches 165°F (74°C).
Cool and Shred: After boiling, drain the water and allow the chicken to cool down to a manageable temperature. Once cooled, use a food processor to shred the chicken to your preferred consistency.
Mix the Main Ingredients: In a large mixing bowl, combine your freshly shredded chicken with the finely diced celery, dried cranberries, and slivered almonds. Mix until the ingredients are evenly distributed.
Prepare the Dressing: In a separate bowl, whisk together Duke's mayonnaise, garlic powder, onion powder, salt, and pepper until you achieve a smooth and even mixture.
Combine Everything: Gently fold the prepared dressing into the chicken mixture. Ensure that the dressing is evenly distributed throughout the salad.
Chill: Transfer the salad to a container with a lid and refrigerate for a minimum of one hour. This chilling process allows the flavors to meld together, enhancing the overall taste.
Serve and Enjoy: After chilling, serve the salad on its own, with crackers, or as a sandwich filling. Enjoy the symphony of flavors!
Nutrition Information:
Yield:
4
Serving Size:
1
Amount Per Serving:
Calories:

320
Trans Fat:

18g
Sodium:

320mg
Carbohydrates:

15g
Sugar:

10g
Protein:

25g
Serving Suggestions and Suitable Side Dishes
The beauty of the Chicken Salad Chick Cranberry Kelli chicken salad is its versatility. Serve it atop a green salad, sandwiched between toasted bread, or simply with crackers. For a wholesome meal, pair it with wheat toast or sugar cookies. The combination of savory chicken salad with sweet cookies is a match made in heaven.
Cooking Tips and Common Mistakes to Avoid
Quality Matters: Always opt for fresh chicken. It makes a world of difference in taste.
Mayonnaise Choices: While Duke's mayonnaise is recommended for its rich flavor, feel free to use your favorite brand.
Storage: Store the salad in an airtight container in the refrigerator. It stays fresh for up to 3 days.
Avoid Overmixing: While combining the ingredients, ensure you don't overmix. It can make the salad too mushy.
A Culinary Journey Worth Taking
In the world of copycat recipes, the Chicken Salad Chick Cranberry Kelli chicken salad stands tall. It's a delightful blend of flavors and textures, reminiscent of restaurant favorites. Whether you're a seasoned chef or a newbie in the kitchen, this dish promises a culinary experience that's both satisfying and memorable. So, the next time you're craving a hearty salad, you know what to whip up. Enjoy your meal!
Frequently Asked Questions (FAQs)
What is in Cranberry Kelly?
Cranberry Kelli is a delightful blend of shredded chicken, dried cranberries, slivered almonds, celery, and a seasoned mayonnaise dressing.
How many calories is Cranberry Kelli chicken salad?
The Cranberry Kelli chicken salad contains approximately 320 calories per serving.
Does Chicken Salad Chick make their chicken salad daily?
Yes, Chicken Salad Chick prides itself on freshness and prepares its chicken salad daily to ensure the best quality and taste.
How many calories are in cranberry chicken salad?
A typical serving of cranberry chicken salad contains around 320 calories, but this can vary based on ingredients and portion sizes.
Can I use rotisserie chicken for this recipe?
Absolutely! Rotisserie chicken can be a time-saver and adds a rich flavor to the salad. Just ensure it's well-shredded.
How long can I store the Cranberry Kelli chicken salad in the refrigerator?
For optimal freshness, it's best to consume the salad within 3 days when stored in an airtight container.
Can I substitute almonds with other nuts?
Yes, you can. Walnuts or pecans can be great alternatives to almonds, offering a slightly different texture and flavor.
Is there a vegan version of the Cranberry Kelli chicken salad?
Certainly! You can use tofu or jackfruit as a chicken substitute and vegan mayonnaise to recreate a vegan-friendly version of the salad.
What bread pairs best with this chicken salad?
While wheat toast is a popular choice, you can also enjoy the salad with rye, sourdough, or even a croissant for a richer experience.
Are there other variations of chicken salads at Chicken Salad Chick?
Yes, Chicken Salad Chick offers a variety of flavors, including Lauryn's Lemon Basil, Pimento Cheese, Dixie Chick, Sassy Scotty, and Jalapeno Holly, among others.
Related Article:
I'm Calvin Lamb, an LA-based culinary enthusiast with a decade's experience in five-star kitchens. My innovative dishes, inspired by seasonal flavors and sustainable practices, blend classic and modern cuisine. Besides crafting unique culinary experiences, I relish exploring new eateries and devising fresh recipes.