Welcome, dear readers! As an experienced food blogging connoisseur, today I'm thrilled to bring you closer to an easy-to-make dish that has a special place in my heart – Chicken Machaca. Originally from Northern Mexico, this dish has also found its way to the hearts and homes of families in Arizona, California, and New Mexico.
This recipe traditionally features shredded beef, but our focus today is on a lighter, poultry-based variant – Chicken Machaca. The melding of tender, shredded chicken, a medley of fresh vegetables, and an aromatic blend of spices is something that your family will look forward to every weeknight meal.
As a dish that has its roots among the miners of Chihuahua, Machaca was traditionally made with top-quality beef dried to a jerky-like state. This was then shredded, or "machacado," making for an enduring meal that could be carried for days. Our version today maintains that same spirit of simplicity and heartiness but with a more approachable and easy-to-make twist.
Personal Perspective: The Charm of Chicken Machaca
Let's take a brief step back from the intricacies of the recipe and dive into the personal side of things. As a professional food blogger, I've tried countless recipes from around the world, but there's a unique allure to Chicken Machaca that makes it stand out.
The first time I tasted this dish, I was drawn in by its tantalizing aromas. The moment I took my first bite, it was a symphony of flavors. The harmony between the juicy shredded chicken, the freshness of the vegetables, and the gentle heat of the spices was unforgettable. The generous dash of lime/cilantro dressing added a tangy contrast, bringing the dish to another level of complexity.
Chicken Machaca is not only a delight for the taste buds but also a versatile dish that accommodates all dietary preferences. It is a fantastic option for anyone seeking to cut down on red meat without compromising on taste or protein content. You can even make it vegetarian by substituting chicken with jackfruit or mushrooms.
The flavor profile of this dish has been a hit with my family and friends every time I've served it. I've seen it become a beloved staple for weeknight dinners, game nights, and even special occasions. And the best part? Its appeal extends to the pickiest eaters in the crowd, from toddlers to teens, and adults alike.
Recommended Cooking Equipment and Effective Usage
While the charm of Chicken Machaca lies in its flavor and versatility, the beauty of preparing this dish is its simplicity. You don't need any fancy equipment. A good-quality, large pot or Dutch oven will serve you well for the one-pot process. The heavy-bottomed nature of these pots ensures even heat distribution, allowing all the ingredients to cook uniformly.
An essential piece of equipment for this dish would be two sturdy forks for shredding the chicken. This task can be made easier with a pair of meat claws or even a hand mixer, but the forks should work just fine.
For an even easier cleanup, you might also want to consider using a slow cooker or an Instant Pot. These appliances let you cook and shred the chicken in the same pot, reducing your washing up.
What I love about Chicken Machaca is that you can get creative with how you serve it. While tortillas are the traditional route, don't shy away from using the mix as a filling for enchiladas or topping for nachos. You can even pair it with some steamed brown rice for a protein-packed meal bowl.
Chicken Machaca, with its vibrant flavors and simplicity, truly is a testament to the statement that the best things in life are often the simplest.
Unveiling the Chicken Machaca Recipe
Before diving into the recipe, let me assure you that preparing this dish is a pure joy. With readily available ingredients and a one-pot cooking process, Chicken Machaca is the ultimate crowd-pleaser. Let's get started!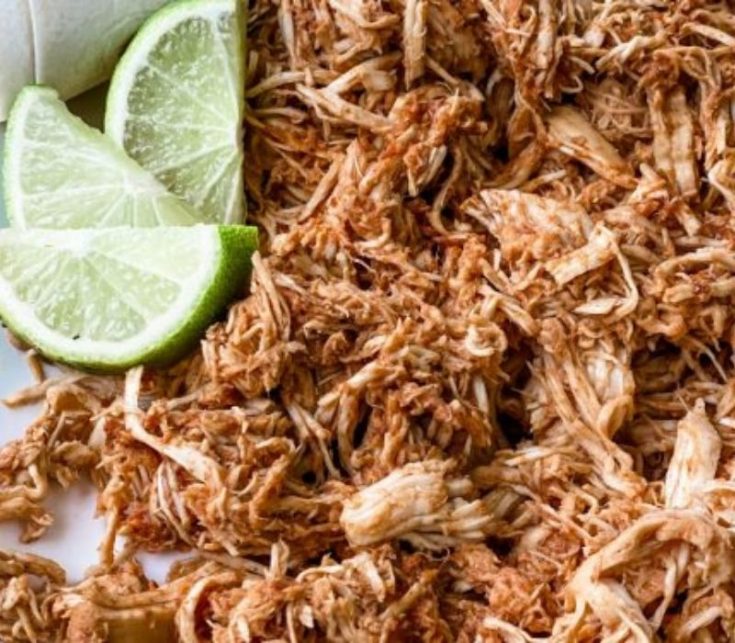 Chicken Machaca is a symphony of flavors and textures that brings the essence of Mexican cuisine right to your plate. The tender shredded chicken harmonizes with the richness of spices, while the freshness of the garnishes adds an exciting contrast. Whether served in tortillas or over a bed of rice, it's a versatile and crowd-pleasing dish that never disappoints.
Additional Time
10 minutes
Total Time
1 hour
10 minutes
Ingredients
4 chicken breasts
1 Spanish onion, finely chopped
1 green pepper, diced
1 can diced tomatoes
1 can green chilies
2 garlic cloves, minced
1 tsp red chili powder
1 tsp cumin
1 tsp oregano
Salt to taste
8 tortillas
Garnish: Beans, lettuce, Pico de Gallo, shredded cheese, avocado slices, lime/cilantro dressing
Instructions
Preparation of Ingredients: Begin by prepping all your ingredients. Dice the onions, green pepper, and mince the garlic.
Cooking the Chicken: In a large pot, add the chicken breasts along with a cup of water. Bring to a simmer over medium heat. Cook until the chicken is tender and easy to shred, about 20 minutes.
Shredding the Chicken: Remove the chicken from the pot, allow it to cool slightly, and then shred it using two forks.
Sautéing the Vegetables: In the same pot, add a bit of oil, followed by the onions, green pepper, and garlic. Sauté until the onions are translucent.
Combining Ingredients: Return the shredded chicken to the pot. Add the diced tomatoes, green chilies, and the spices. Stir well to combine. Allow the mixture to simmer for another 20 minutes, allowing the flavors to meld together beautifully.
Serving: Warm up your tortillas and serve the Chicken Machaca alongside your garnishes. Let each family member customize their plate with beans, lettuce, Pico de Gallo, avocado slices, shredded cheese, and a drizzle of lime/cilantro dressing.
Nutrition Information:
Yield:
8
Serving Size:
1
Amount Per Serving:
Calories:

360
Total Fat:

12g
Saturated Fat:

3g
Cholesterol:

65mg
Sodium:

550mg
Carbohydrates:

35g
Fiber:

5g
Sugar:

4g
Protein:

25g
Serving Suggestions and Suitable Side Dishes
Chicken Machaca is versatile and pairs perfectly with a variety of side dishes. You can keep it simple with brown rice and steamed veggies, or make it a complete Mexican-inspired feast with refried beans and Mexican-style corn on the cob.
Useful Cooking Tips and Common Mistakes to Avoid
Choosing Chicken: While chicken breasts are lean and easy to work with, don't be afraid to try chicken thighs for a more flavorful variation.
Spice Levels: Adjust the amount of red chili powder to your family's preference. If you prefer more heat, add a little more.
Shredding the Chicken: Ensure the chicken is cooked thoroughly before shredding. Undercooked chicken will be difficult to shred and may lead to health risks.
Simmering the Mixture: Let the mixture simmer adequately. This will allow the flavors to meld together and intensify the dish.
Warming Tortillas: Remember to warm your tortillas before serving. Cold tortillas can take away from the overall experience.
Conclusion
There you have it! An easy-to-make, flavor-packed meal that'll please the pickiest eaters. Chicken Machaca is a main course that effortlessly unites a crowd and turns a weeknight dinner into a special occasion. So, roll up your sleeves, harness these tips, and let's introduce your family to their new favorite recipe – Chicken Machaca. Happy cooking!
FAQs
Can I prepare Chicken Machaca in advance?
Yes, you can prepare the Chicken Machaca filling a day or two in advance and store it in the fridge. Reheat it before serving.
What can I use as a substitute for green chilies?
You can use jalapenos or serrano peppers as substitutes, depending on your heat preference.
Is Chicken Machaca gluten-free?
The Chicken Machaca filling is gluten-free. However, ensure the tortillas you use are gluten-free if required.
How can I make a vegetarian version of Chicken Machaca?
You can use a meat substitute like jackfruit or even mushrooms as the main ingredient instead of chicken.
Can I freeze Chicken Machaca?
Absolutely! Chicken Machaca freezes well. Store it in airtight containers, and it can last for up to 3 months in the freezer.
Where can I try Chicken Machaca in a restaurant?
Chicken Machaca is commonly found in many Mexican and Southwestern restaurants in the US. For a fantastic meal, Sweet Basil's Cafe, with branches in California and New Mexico, serves an excellent Chicken Machaca.
What is Machaca Meat?
Machaca meat traditionally refers to dried, spiced beef or pork that's been rehydrated and shredded. Originating in Mexico, it's known for its tender texture and robust flavor, often incorporated in various dishes.
What Part of the Cow is Machaca?
Machaca typically comes from tougher cuts like the beef brisket or flank. These cuts, when slow-cooked, become tender, making them ideal for shredding and infusing with flavors.
What is a Machaca Plate?
A Machaca Plate typically showcases the savory, shredded Machaca meat served with accompaniments like rice, beans, and tortillas. The plate offers a delightful blend of textures and flavors, celebrating the meat's rich heritage.
Related Article:
I'm Calvin Lamb, an LA-based culinary enthusiast with a decade's experience in five-star kitchens. My innovative dishes, inspired by seasonal flavors and sustainable practices, blend classic and modern cuisine. Besides crafting unique culinary experiences, I relish exploring new eateries and devising fresh recipes.