Hey, foodies! If you're like me, you're always on the hunt for the next big thing in the culinary world. Well, let me tell you, I've found it: Chicken and Waffles Pizza. Yeah, you heard that right. It's a heavenly combo that takes the crispy, juicy goodness of fried chicken, the fluffy delight of buttermilk waffles, and the cheesy, doughy magic of pizza. It's like a flavor bomb that explodes in your mouth. Perfect for Sunday brunch, game day, or honestly, any day you want to treat yourself.
Choosing the Right Main Ingredient: Chicken or Waffles?
Before you dive into this culinary adventure, let's talk about the main ingredient. Is it the chicken or the waffles? In my opinion, both are equally important. For the chicken, you'll want to go for boneless, skinless chicken thighs—they're juicier and more flavorful than chicken breasts. As for the waffles, a good buttermilk waffle mix or even a sourdough starter can elevate your dish to the next level.
What About Seasoning?
Seasoning is where you can really let your creativity shine. Want to go classic? Stick to salt, pepper, and a bit of garlic powder. Feeling adventurous? How about a sweet heat butter sauce or even some cayenne to give it a kick? The sky's the limit here, folks.
Recommended Cooking Equipment and How to Use It Effectively
Alright, let's get down to business. You'll need a few key pieces of equipment to make this dish a success:
Gas Grill
If you're going for that smoky flavor, a gas grill is your best friend. Preheat it to a medium-high temperature and grill your chicken until it's cooked through, usually about 7-8 minutes per side.
Oven
You'll also need an oven to bake your pizza. Preheat it to 450°F (232°C). If you have a baking steel or pizza stone, even better—it'll give your crust that perfect, crispy texture.
Pizza Peel and Pizza Cutter
A pizza peel is essential for transferring your pizza to and from the oven. And of course, a good pizza cutter will make sure everyone gets a slice of the action.
Baking Steel
If you're serious about your pizza, invest in a baking steel. It retains heat better than a pizza stone and will give your crust that pizzeria-quality crispiness.
To use these tools effectively, always preheat your cooking surfaces, whether it's the gas grill or the baking steel in the oven. Make sure your pizza peel is well-floured to prevent sticking, and always use a sharp pizza cutter for clean slices.
The Ultimate Chicken and Waffles Pizza Recipe
Alright, you've been patient, and now it's time for the main event—the recipe. This is where the magic happens, folks.
Yield: 4
Chicken and Waffles Pizza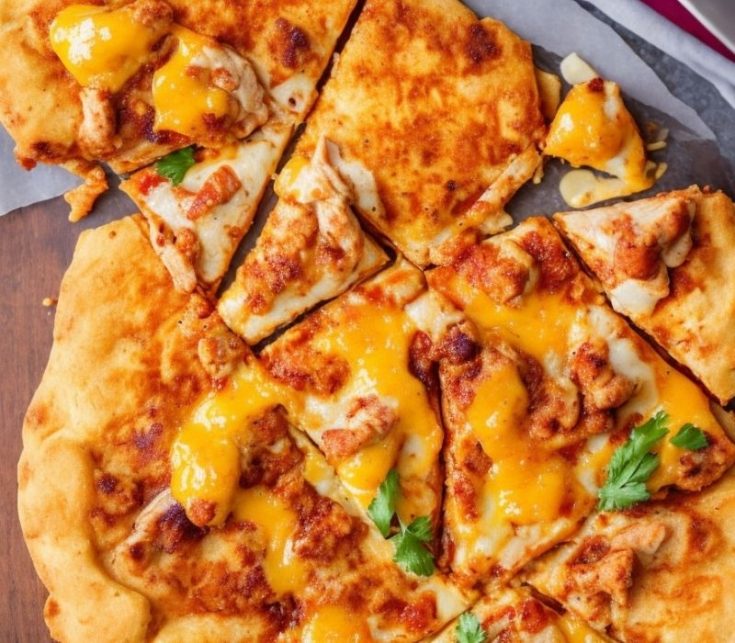 Chicken and Waffles Pizza is like a symphony of flavors and textures that makes my taste buds dance. It's the perfect blend of crispy fried chicken, fluffy buttermilk waffles, and gooey mozzarella cheese, all harmoniously united on a sourdough crust. Every bite is a celebration, making it a dish that's close to my heart.
Ingredients
4 boneless, skinless chicken thighs
2 cups buttermilk waffle mix
1 cup mozzarella cheese
1/2 cup sweet heat butter sauce
1/2 cup maple syrup
1/4 cup honey
1/4 cup hot sauce
1 sourdough pizza dough
2 strips of bacon, cooked and crumbled
Salt, pepper, garlic powder, onion powder, paprika, thyme, cayenne to taste
2 eggs
1/4 cup buttermilk
1/4 cup flour
1 tsp baking powder
Instructions
Preheat and Prepare: Start by preheating your gas grill and oven. If you're using a baking steel or pizza stone, place it in the oven while it's preheating.
Season the Chicken: Season your chicken thighs with salt, pepper, garlic powder, onion powder, paprika, thyme, and cayenne. Grill them on medium-high heat for about 7-8 minutes per side. Once done, chop into bite-sized pieces.
Make the Waffles: In a bowl, mix the buttermilk waffle mix, eggs, and buttermilk. Cook in a waffle iron until golden brown. Cut into pizza-topping-sized pieces.
Prepare the Dough: Roll out your sourdough pizza dough on a floured surface. Transfer it onto your pizza peel.
Assemble the Pizza: Spread a layer of sweet heat butter sauce on the dough. Sprinkle mozzarella cheese, followed by the grilled chicken, waffle pieces, and crumbled bacon.
Bake: Slide the pizza onto the preheated baking steel in the oven. Bake for about 10-12 minutes or until the crust is golden and the cheese is melted.
Final Touches: Drizzle with maple syrup, honey, and hot sauce to taste.
Slice and Serve: Use your pizza cutter to slice it up, and you're ready to dig in!
Nutrition Information:
Yield:
4
Serving Size:
1
Amount Per Serving:
Calories:

850
Total Fat:

40g
Net Carbohydrates:

90g
Protein:

35g
Serving Suggestions and Suitable Side Dishes
This pizza is a meal in itself, but if you're looking for some sides, a simple green salad or some sweet potato fries would work wonders. You can also pair it with a cold beer or a refreshing iced tea.
Cooking Tips and Common Mistakes to Avoid
Don't Overcrowd the Pizza: Less is more. Overloading the pizza with toppings will make it soggy.
Quality Ingredients: Always go for high-quality chicken and cheese. It makes a difference.
Watch the Grill: Don't walk away from the grill. Chicken can go from perfect to burnt in a matter of minutes.
Conclusion: The Perfect Fusion Dish
There you have it, folks! Chicken and Waffles Pizza is not just a dish; it's an experience. It's the perfect fusion of flavors and textures that will leave you craving for more. So go ahead, give it a try and let your taste buds celebrate. Trust me, you won't regret it.
Frequently Asked Questions (FAQs)
Is fried chicken and waffles a black thing?
Fried chicken and waffles is often associated with Southern and soul food cuisine, which has African American roots. However, it's a dish that has been embraced by people of all backgrounds and is popular across the U.S.
What side to eat with chicken and waffles?
Chicken and waffles is a hearty dish that pairs well with lighter sides. A simple green salad, coleslaw, or even some fruit can balance out the meal.
Does chicken and waffles taste good together?
Absolutely! The combination of crispy, savory fried chicken and fluffy, sweet waffles creates a delightful contrast of flavors and textures that many find irresistible.
Do you pour syrup on chicken and waffles?
Yes, drizzling syrup over chicken and waffles is a common practice. The sweetness of the syrup complements the savory chicken, enhancing the overall flavor experience.
Can I use chicken breasts instead of thighs?
You can, but chicken thighs are generally juicier and more flavorful. If you do use breasts, make sure to adjust the cooking time as they cook faster than thighs.
What type of syrup works best?
Pure maple syrup is a classic choice, but you can also experiment with flavored syrups like blueberry or even spicy syrups for an extra kick.
Can I make this dish gluten-free?
Yes, you can use gluten-free waffle mix and gluten-free flour for the chicken. Just make sure to also check that your other ingredients like sauces and syrups are gluten-free.
How do I store leftovers?
Store any leftover chicken and waffles separately in airtight containers in the fridge. The chicken can be reheated in the oven, and the waffles can be toasted to bring back their crispiness.
Is this dish high in calories?
While it's a hearty dish, you can manage the calorie count by controlling portion sizes and opting for lighter sides. It's a treat worth indulging in once in a while!
Can I make this dish vegan?
While the traditional recipe calls for chicken and buttermilk, you can use plant-based substitutes like seitan for chicken and almond milk for buttermilk to make a vegan version.
Related Article:
I'm Calvin Lamb, an LA-based culinary enthusiast with a decade's experience in five-star kitchens. My innovative dishes, inspired by seasonal flavors and sustainable practices, blend classic and modern cuisine. Besides crafting unique culinary experiences, I relish exploring new eateries and devising fresh recipes.