Today, I'm excited to share my Weber Genesis E 325S review – the ultimate backyard grilling beast!
Having used it for half a year, I've got the inside scoop on whether this grill is worth your hard-earned money. From its impressive grilling performance to its features, I'll spill all the beans.
So if you're finding a top-notch grill that'll elevate your BBQ game, dive into this review!
Weber GENESIS E-325S Review
Weber GENESIS E-325S Review
To give you the most unbiased view of this grill, I'll detail the design, features, performance, fuel economy, and ease of assembly and cleaning.
Design
First, let's talk about its design. Its exterior look is sleek and eye-catching with its black painted finish. It gives off that classic Weber vibe, which I love.
The use of alloy steel for its construction is a pro, making it durable and able to handle the rigors of outdoor cooking for a long time.
The control panel is at my hip level. So the control is very convenient. I also like its generous storage space underneath. I've used it to store the grilling accessories I use often, and it's a space-saving solution.
And when it comes to design, there are three features of this grill that I like the most:
Cooking Grates
513-sq-inch Cooking Grates
Regarding its cooking grates, the best part is the versatility they offer with a 513-sq-inch area (suitable for up to 8 people).
I've seared steaks, roasted juicy chickens, and even tried baking desserts on the grill. It's like having a whole outdoor kitchen at my disposal!
The pros of these grates are that they fit and are super easy to switch between grillware for various cooking techniques.
The quality of the stainless steel rods is top-notch, ensuring even heat distribution and those grill marks on my food. Plus, they're a breeze to clean.
The only downside is that I must buy the frame and grillware separately. It'd be nice if it came as a complete package.
Extra Large Side Table
Side Table
I love the large side table on this grill! I can't even count how many times I've used it to prepare dinner and serve up some delicious appetizers right where the party is happening – outside by the grill.
First off, it's huge! It's like having a mini outdoor kitchen right next to my grill.
It fits various cutting boards and serving trays, so everything I need is within arm's reach. It makes the whole cooking process more efficient and enjoyable.
But it might be a tad overwhelming for a compact patio or deck. But honestly, for the convenience and functionality it offers, I'd gladly make room for it.
Expandable Top Grate
The grill also boasts an expandable top grate to add a new level of grilling capacity with a 274-sq-inch area.
I can have burgers sizzling on the main grate while veggies and corn on the cob are on the top level. It saves so much time and effort, and I can impress my guests with a feast of epic proportions.
Key Features
Key Features
Next, learn about the highlight features I like the most about this grill!
Sear Station
That extra-large sear zone is a dream come true for anyone who loves a perfectly seared steak. I can fit multiple steaks on there at once, ensuring that everyone gets their juicy, flavorful meat at the same time.
I use the red button on the front to control the solar station. No more waiting around and trying to time each steak perfectly – it's a grilling miracle!
Push-To-Start Ignition
This ignition is dependable and quick, so I can get the grill going with a simple button push.
There is no fussing around with matches or struggling to light up the burners. It's a real time-saver, especially when I'm eager to get my grill on!
To use it, I turn on the gas supply, set the burners to the desired heat level, and then press that button. The electric ignition spark kicks in, and the burners come to life.
Pureblu Burners
These burners are Weber's proprietary high-performance burners with an even and efficient flame. I get consistent and precise heat for nailing those perfectly cooked steaks and burgers.
In terms of the design, they're tapered to the back. So they ensure an even gas flow through the holes. It means I don't have to worry about hot spots or uneven cooking areas.
And guess what? When I'm grilling up a storm, the Flavorizer bars protect these burner tubes. Not only do they improve heat distribution, but they also keep grease from clogging up the burner ports. It's like a double win!
Performance

Performance
To help you visualize its performance, I've written down my specific experience in this section. Let's keep on reading to get more details!
Temperature Range
I love how quickly it reaches those scorching temperatures. It goes from zero to around 400 degrees in a flash! When I'm in the mood for high-heat searing action, this grill delivers without hesitation.
Besides, I can easily control the heat to get it right for whatever I'm cooking. This grill handles it like a champ, whether I need a screaming-hot fire to sear some steaks or a more moderate temperature for slow-cooking some ribs.
Grilling Food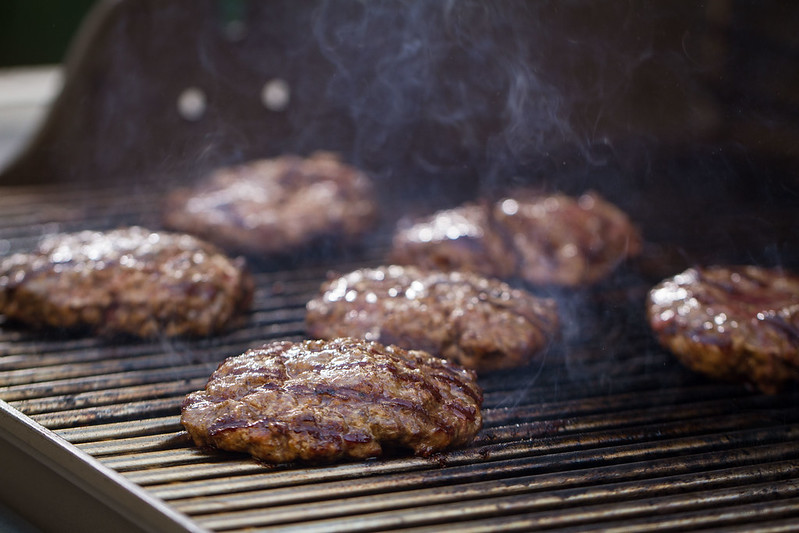 Grilling Food
Its grilling performance is off the charts. I've grilled everything under the sun – juicy burgers, succulent chicken, tender veggies – and it always comes out with the best textures.
Besides, the searing action is on point thanks to the sizzling hot gear station. Those perfect grill marks and that mouthwatering crust on my steaks is enough to make my mouth water just thinking about it.
And speaking of steaks, the Pureblu burners create such a precise and consistent heat that I can cook multiple steaks at once, so everyone gets their meat at the same time – no more waiting around!
Whether it's a laid-back family dinner or a big backyard bash, this grill is always up for the challenge. And I'm forever grateful for the culinary delights it brings to my table!
Heat Distribution
Do you know what's awesome about this grill? No hot spots! Whether I'm searing steaks, roasting veggies, or grilling up some succulent seafood, I can trust that every morsel will be cooked to perfection.
The burner tubes ensure a smooth gas flow for an even flame that translates to impeccable heat distribution.
Fuel Efficiency
Fuel Efficiency
The fuel efficiency is something I've come to appreciate over my long grilling journey. With its fuel gauge, I know exactly where I stand in propane levels. It's like having a built-in gas gauge for my grill.
Hence, I can grill up several dishes without worrying about running out of gas unexpectedly. The fuel gauge gives me the heads up, so I can plan accordingly and never let the grill go empty in a cooking session.
Another bonus of this fuel-efficient champ is that it's eco-friendly. It minimizes waste and ensures I'm not using more fuel than necessary to get the job done.
Ease Of Assembly And Cleaning
Ease Of Assembly And Cleaning
When the grill arrived, it was like receiving a massive present on my doorstep. The box was quite large, and with the grill on a pallet, it was challenging to move to my backyard.
However, I was relieved that Weber took great care in packaging the grill. Each component had its box and had protective cardboard and styrofoam.
The assembly process was a breeze, thanks to the well-designed instruction manual. The instructions were clear and easy to follow. So the whole assembly process is a lot less daunting.
My excitement grew as I saw the grill coming together piece by piece. I enlisted the help of my wife, and we completed the assembly in about an hour. Having an extra pair of hands was beneficial, especially when positioning heavier parts.
Now, onto cleaning – a task we all wish could be easier with a grease tray. All I had to do was pull out this tray. And with a quick scrape, all the grease was gone. There are no more tedious hours spent scrubbing or dealing with messy trays.
Pros And Cons
Here is a quick rundown of this Weber grill model:
Pros
Even heat distribution due to its Pureblu burners and tapered rectangular burner tubes
Versatile cooking options with the large side table and expandable top cooking grate
The sear station delivers intense heat
Fuel efficiency with a fuel gauge
Cons
High cost
The frame and grillware are sold separately
Challenging to move or assemble for some users without help
Should You Buy The Weber GENESIS E-325S?
Should You Buy This Weber?
I would recommend it, speaking from my experience with it! This grill has been my loyal companion for a long time. And it never fails to impress me with its grilling performance.
It handles it all, from juicy steaks to perfectly roasted veggies. The even heat distribution and the Sear Station feature are true game-changers, giving me that professional grill-master vibe.
If you have a decent-sized outdoor space and love to grill up a storm for friends and family, this grill is a winner. The fuel efficiency with the built-in gauge is a big plus.
Plus, the large side table and expandable cooking grate provide all the versatility I need to execute a full meal at once.
Note that the grill's size might not suit everyone, especially those with limited outdoor space.
But all in all, this Weber is the one for you if you want a reliable, high-performance grill that delivers delicious results every time. I give it a big thumbs up!
Conclusion
Above is my Weber Genesis E 325S review. From its even heat distribution and the fantastic sear station to the convenience of the fuel gauge and easy cleaning, this grill has exceeded my expectations.
Sure, it might be a bit hefty on the price tag, and its size could be a consideration for some, but the delicious results and the joy it brings to my backyard cooking sessions make it all worthwhile.
If you're serious about grilling and want a reliable, high-performance grill, go for it!
I'm Calvin Lamb, an LA-based culinary enthusiast with a decade's experience in five-star kitchens. My innovative dishes, inspired by seasonal flavors and sustainable practices, blend classic and modern cuisine. Besides crafting unique culinary experiences, I relish exploring new eateries and devising fresh recipes.