As a seasoned food blogging expert, I can confidently say that learning how to grill chicken kabobs on gas grill is an endeavor that leads to a delightful culinary experience. The combination of juicy, marinated chicken and colorful vegetables on skewers, grilled to perfection, creates a symphony of flavors that will satisfy even the most discerning palates.
Grilling chicken kabobs on a gas grill is not only straightforward but also amplifies the natural essence of the ingredients. The caramelization of the chicken and the smoky char from the gas grill add a unique flavor that's hard to resist. Whether you're throwing a barbecue bash or whipping up a quick weeknight dinner, this dish has you covered. So, let's delve into the art of making chicken kabobs on a gas grill, complete with tips, tricks, and a mouthwatering recipe!
The Taste of Grilled Chicken Kabobs:
Grilled chicken kabobs offer a perfect balance of tender and juicy chicken pieces with a hint of smoky goodness. The vegetables add a burst of freshness and color to every bite, creating a medley of textures and flavors that tantalize the taste buds. When properly seasoned and grilled, the chicken becomes irresistibly delicious, making it an excellent choice for any occasion.
Recommended Cooking Equipment:
To ensure a successful and enjoyable grilling experience, it's essential to have the right tools on hand. Here's what you'll need:
Gas Grill: A gas grill offers convenience and precise temperature control, making it ideal for grilling chicken kabobs.
Skewers: Use metal or soaked wooden skewers to thread the chicken and vegetables for grilling.
Grill Tongs: Long-handled tongs allow you to turn the kabobs on the grill with ease.
Basting Brush: A basting brush comes in handy for applying marinades and melted butter to the kabobs.
Recipe: Grilled Chicken Kabobs
Yield: 4
Grilled Chicken Kabobs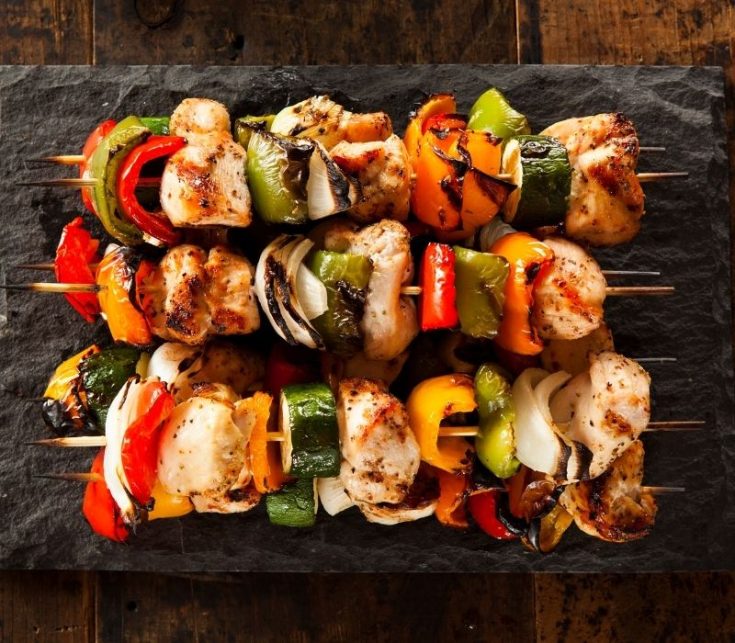 Grilled Chicken Kabobs always evoke a sense of summertime nostalgia for me. The aroma of sizzling meat combined with fresh vegetables takes me back to family barbecues. There's something truly special about these skewered delights, where the Mediterranean flair meets casual outdoor dining, creating a mouthwatering symphony of flavors in every bite.
Marinating Time
30 minutes
Ingredients
1 ½ pounds boneless, skinless chicken breasts or thighs, cut into 1-inch cubes
1 cup warm water
1 tablespoon kosher salt
½ teaspoon black pepper
2 tablespoons olive oil
1 teaspoon paprika
1 teaspoon garlic powder
Assorted vegetables (bell peppers, onions, cherry tomatoes, zucchini, etc.)
Lemon wedges (for serving)
Marinade:
¼ cup olive oil
2 tablespoons fresh lemon juice
2 tablespoons soy sauce
2 cloves garlic, minced
1 tablespoon honey
1 teaspoon dried oregano
1 teaspoon dried thyme
½ teaspoon black pepper
¼ teaspoon red pepper flakes (optional)
Instructions
In a bowl, combine warm water and kosher salt, stirring until the salt dissolves. Add the chicken cubes, cover, and refrigerate for 30 minutes to 1 hour. This process of brining helps keep the chicken juicy and flavorful during grilling.
In another bowl, whisk together the marinade ingredients: olive oil, lemon juice, soy sauce, minced garlic, honey, dried oregano, dried thyme, black pepper, and red pepper flakes (if using). Set aside.
Preheat your gas grill to medium-high heat (around 375-400°F/190-204°C).
While the grill is heating, remove the chicken from the brine, pat it dry with paper towels, and discard the brine.
Thread the marinated chicken cubes and assorted vegetables alternately onto the skewers, leaving a little space between each piece for even cooking.
Brush the chicken and vegetables with the marinade, ensuring they are evenly coated.
Grease the grill grates with olive oil or cooking spray to prevent sticking.
Place the chicken kabobs on the gas grill and cook for 4-6 minutes on each side, or until the chicken is fully cooked through and the vegetables are tender-crisp.
Remove the kabobs from the grill and let them rest for a couple of minutes.
Serve the grilled chicken kabobs with lemon wedges for an extra burst of freshness.
Nutrition Information:
Yield:
4
Serving Size:
1
Amount Per Serving:
Calories:

280
Total Fat:

14g
Sodium:

892mg
Carbohydrates:

11g
Fiber:

2g
Sugar:

7g
Protein:

28g
Serving Suggestions and Suitable Side Dishes:
Grilled chicken kabobs are versatile and pair wonderfully with a range of side dishes. Here are some delectable suggestions to elevate your meal:
Green Salad: A crisp, refreshing green salad with a tangy vinaigrette complements the smoky flavors of the chicken kabobs.
Pasta Salad: A colorful pasta salad with fresh vegetables and a zesty dressing adds a delightful contrast to the grilled dish.
Baked Potatoes: Enjoy the kabobs with fluffy baked potatoes topped with butter and fresh herbs for a comforting and filling meal.
Roasted Brussels Sprouts: Roasted Brussels sprouts seasoned with garlic and parmesan offer a flavorful and nutritious side.
Roasted Asparagus: Tender roasted asparagus with a squeeze of lemon pairs perfectly with the chicken kabobs.
Grilled Pineapple: For a tropical twist, grill pineapple slices and serve them alongside the kabobs for a sweet and savory combination.
Fruit Crisps: End your meal on a sweet note with fruit crisps made with seasonal fruits and a crunchy oat topping.
Cooking Tips:
To ensure even cooking, cut the chicken pieces into uniform sizes.
Soak wooden skewers in water for at least 30 minutes before threading them to prevent them from burning on the grill.
Preheat the gas grill before placing the kabobs to ensure they cook evenly and retain their juiciness.
Use a meat thermometer to check the internal temperature of the chicken. It should reach 165°F (74°C) for safe consumption.
Common Mistakes to Avoid:
Overcooking: Overcooking the chicken can lead to dry and tough kabobs. Pay attention to the cooking time and use a meat thermometer for accuracy.
Inadequate Marinating: To infuse the chicken with flavor, allow enough time for marinating. Thirty minutes to one hour is ideal.
Crowded Skewers: Avoid overcrowding the skewers as it may hinder even cooking. Leave some space between the pieces for better results.
Skipping Brining: Brining the chicken before grilling is essential to maintain its juiciness, so don't skip this step.
Conclusion: How to Grill Chicken Kabobs on Gas Grill
Grilling chicken kabobs on a gas grill is an enjoyable and rewarding experience that yields delicious results. With the right ingredients, proper seasoning, and essential tips, you can achieve juicy and flavorful kabobs that will impress your family and friends. So, fire up your grill, grab your skewers, and get ready to savor the delightful flavors of this classic dish.
Whether it's a Target run, Memorial Day weekend, or a casual weeknight dinner, grilled chicken kabobs are always a hit and a surefire way to bring smiles to everyone's faces! Enjoy your culinary adventure and remember to serve them with ice-cold drinks for the ultimate experience. Happy grilling!
You might also like:
FAQs
What temperature should chicken be grilled to?
Chicken should be grilled to an internal temperature of 165°F (74°C) to ensure it's safe to eat. Always use a meat thermometer to check for accuracy and prevent overcooking.
How to grill kabobs inside?
For indoor grilling, use a grill pan or a stovetop grill. Preheat over medium-high heat, then place the kabobs on, turning occasionally until fully cooked. Ensure adequate ventilation to handle the smoke.
What to serve with chicken kabobs on the grill?
Chicken kabobs pair wonderfully with rice pilaf, fresh salads, grilled vegetables, pita bread, and tangy tzatziki sauce. Choose sides that complement the Mediterranean flavors for a complete meal.
Can I use bone-in chicken for the kabobs?
Absolutely! Bone-in chicken can add more flavor and juiciness to the kabobs. Just adjust the cooking time to ensure it cooks through.
Can I use a charcoal grill instead of a gas grill?
Yes, you can use a charcoal grill for this recipe. Just make sure to set up the charcoal for medium-high heat and follow the same grilling instructions.
How long can I store leftover chicken kabobs?
Store any leftover chicken kabobs in an airtight container in the refrigerator for up to 3 days.
Can I freeze the marinated chicken for future use?
Yes, you can freeze the marinated chicken in a freezer-safe bag for up to 3 months. Thaw it in the refrigerator before grilling.
What other seasoning options can I try?
You can experiment with various dry seasonings and herbs like cumin, rosemary, or chili powder to customize the flavor of your kabobs.
Can I prepare the kabobs ahead of time for a party?
Absolutely! You can assemble the kabobs a few hours before grilling and keep them in the refrigerator until ready to cook.
I'm Calvin Lamb, an LA-based culinary enthusiast with a decade's experience in five-star kitchens. My innovative dishes, inspired by seasonal flavors and sustainable practices, blend classic and modern cuisine. Besides crafting unique culinary experiences, I relish exploring new eateries and devising fresh recipes.