Welcome to the enticing world of Panda Express Grilled Teriyaki Chicken. This iconic dish combines Eastern culinary flair with Western fast-food traditions, yielding an exquisite blend of flavors and nutritional benefits. We'll delve into its intriguing background, the irresistible teriyaki flavor, and its health merits. Moreover, you'll acquire a step-by-step guide to recreate this mouth-watering dish in your kitchen.
What Makes Panda Express Grilled Teriyaki Chicken Unique?
The magic behind the Grilled Teriyaki Chicken from Panda Express lies in its authentic teriyaki sauce. It gracefully blends sweet and savory elements, infusing the tender grilled chicken with a symphony of flavors. Combined with skilled grilling, the result is a succulent, perfectly seasoned chicken piece enveloped in a teriyaki glaze.
Inside the Grilled Teriyaki Chicken Recipe
Yield: 4
Grilled Teriyaki Chicken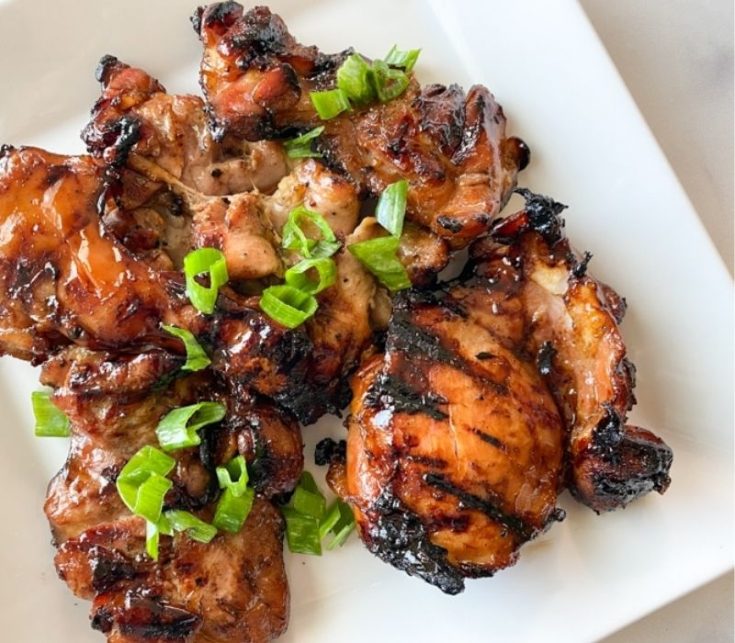 Before immersing ourselves in the cooking process, let's familiarize ourselves with the recipe for Grilled Teriyaki Chicken—a tantalizing dish comprising tender chicken bathed in a sweet-savory teriyaki sauce and flawlessly grilled. This feast delights not only your palate but also your sight! Now, let's begin our gastronomical expedition.
Total Time
2 hours
40 minutes
Ingredients
1 kilogram of boneless, skinless chicken thighs
Salt and black pepper, as required
1 tablespoon olive oil
For the Teriyaki Sauce:
½ cup soy sauce
¼ cup water
2 tablespoons sweet rice wine
1 tablespoon brown sugar
2 tablespoons honey
2 cloves garlic, minced
1 teaspoon fresh ginger, grated
1 tablespoon cornstarch, dissolved in 1 tablespoon water
For Garnishing:
Sesame seeds
Sliced scallions
Instructions
Preparation: Season the chicken thighs with salt and black pepper uniformly.
The Teriyaki Sauce: In a saucepan, combine soy sauce, water, sweet rice wine, brown sugar, honey, garlic, and ginger. Allow to simmer on medium heat.
As the sauce begins to simmer, stir in the cornstarch-water mixture and simmer until the sauce thickens—around 2 minutes. Divide the sauce equally for glazing during cooking and for serving.
Marination: Immerse the seasoned chicken thighs in the teriyaki sauce and refrigerate for at least 2 hours.
Cooking: Preheat your grill on medium-high heat. Dab the grill with olive oil to avoid the chicken sticking. Grill each side of the chicken thighs for 5-7 minutes, occasionally brushing with the teriyaki sauce for enhanced flavor.
Serving: Serve hot, garnished with sesame seeds and sliced scallions, alongside the remaining teriyaki sauce for those desiring an additional flavor punch!
Nutrition Information:
Yield:
4
Amount Per Serving:
Calories:

350
Total Fat:

10g
Saturated Fat:

3g
Trans Fat:

0g
Cholesterol:

130mg
Sodium:

1000mg
Carbohydrates:

15g
Fiber:

1g
Sugar:

13g
Protein:

50g
Uncovering the Charm of Teriyaki Flavor
Teriyaki is a cooking technique where ingredients are glazed with a mixture of soy sauce, sugar, and mirin, rendering an irresistible balance of sweet, sour, and salty notes.
History of Teriyaki
The term "teriyaki" derives from Japan, combining "teri," signifying luster, and "yaki," meaning to grill or broil. This technique was traditionally used to grill or broil foodstuffs like fish, beef, and chicken, with the shiny glaze and grilling process defining its name.
The Teriyaki Impact
The teriyaki flavor leaves a distinctive mark on the palate. It enhances the food's taste by adding complexity and depth, offering a blend of savory, sweet, tangy, and smooth elements. Its umami characteristic makes food more fulfilling and appetite-stimulating.
Health Aspects of Grilled Teriyaki Chicken
The Panda Express Grilled Teriyaki Chicken isn't just delectable; it also boasts various health benefits.
High Protein Content
Chicken is a prime source of superior quality protein, vital for muscle development, repair, and maintenance. It also promotes healthy body weight by inducing satiety.
Calorie-Conscious Choice
Compared to other meat dishes, Grilled Teriyaki Chicken has fewer calories, making it a sensible choice for those managing their caloric intake.
Nutrient-Rich
Beyond protein, chicken is also abundant in essential nutrients like vitamin B6, niacin, and selenium. Plus, the homemade teriyaki sauce, produced from fermented soybeans, provides health benefits like enhancing gut health and boosting immunity.
Elevating Your Grilled Teriyaki Chicken Experience
Pairing Grilled Teriyaki Chicken with ideal side dishes and beverages can greatly enhance your dining experience.
Ideal Side Dishes
Balance the flavors by pairing the Grilled Teriyaki Chicken with dishes like Panda Express's String Bean Chicken Breast or Mushroom Chicken. Alternatively, choose plain steamed rice or stir-fried vegetables.
Beverage Pairings
A light beer or a glass of Riesling complements the teriyaki's sweet-savory notes. Non-alcoholic options include unsweetened iced tea or refreshing lemonade.
Cooking Panda Express Grilled Teriyaki Chicken at Home
Recreating beloved restaurant dishes at home can be a delightful experience, and the Grilled Teriyaki Chicken from Panda Express is no exception. With the correct ingredients and steps, you can transport the Panda Express experience to your dining table.
Success Tips
Opt for boneless, skinless chicken thighs for the juiciest results.
Marinate the chicken for at least an hour, ideally overnight, for optimal flavor absorption.
Regulate the heat during cooking to prevent chicken burns.
Ensure the sauce is sufficiently thick to adhere to the chicken.
Avoidable Mistakes
Avoid high heat while grilling; it may burn the exterior while leaving the interior uncooked.
Don't rush the marination process; allow the chicken to fully soak up the flavors.
Avoid an overly thick or thin sauce. Aim for a consistency that can coat a spoon's back.
Conclusion
Panda Express Grilled Teriyaki Chicken is a gastronomic delight, bridging cultures and enticing the palate with its unique flavor blend. Its high protein content, low calories, and nutrient richness make it not just flavorful but also nutritious. The pleasure of recreating this dish at home can turn any meal into a special occasion.
FAQs
Can I use chicken breasts instead of thighs for this recipe?
Yes, chicken breasts can be used, but keep in mind that they might not be as juicy or flavorful as thighs.
What if I don't have a grill, can I still make this dish?
Yes, if you don't have a grill, you can use a grill pan or even a regular skillet on your stovetop.
Is there a substitute for sweet rice wine?
If you can't find sweet rice wine, you can substitute it with dry sherry or a sweet marsala wine. In a pinch, you can also use apple cider vinegar mixed with a little sugar.
Can I make the teriyaki sauce in advance?
Yes, the teriyaki sauce can be made ahead of time and stored in the refrigerator for up to a week.
How can I make this dish vegetarian?
You can replace the chicken with tofu or a variety of grilled vegetables for a vegetarian version of this dish.
What can I serve with Grilled Teriyaki Chicken?
Grilled Teriyaki Chicken pairs well with steamed rice and stir-fried vegetables. You could also serve it with noodles or a fresh salad.
Can I make this recipe gluten-free?
Yes, simply replace the soy sauce with tamari or a gluten-free soy sauce to make this recipe gluten-free.
What's the best way to store leftover Grilled Teriyaki Chicken?
Store any leftovers in an airtight container in the refrigerator for up to 4 days. Reheat gently in the microwave or on the stovetop.
Can I freeze Grilled Teriyaki Chicken?
Yes, you can freeze it for up to 3 months. Thaw in the refrigerator overnight and reheat before serving.
Is this dish spicy?
No, Grilled Teriyaki Chicken is not traditionally spicy. It has a sweet and savory flavor profile. However, you can add some heat by including a little crushed red pepper flakes or sliced chili in the teriyaki sauce.
Related Article:
I'm Calvin Lamb, an LA-based culinary enthusiast with a decade's experience in five-star kitchens. My innovative dishes, inspired by seasonal flavors and sustainable practices, blend classic and modern cuisine. Besides crafting unique culinary experiences, I relish exploring new eateries and devising fresh recipes.